Impact our Future Through
Planned Giving
Touch the lives of others while creating a
lasting legacy
Find a piece of mind through a wide variety of
tax benefits
Help Signature Healthcare achieve its goals for
current and future generations
Welcome to the Encore Society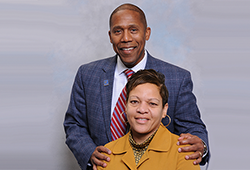 David and Detra Offutt
Signature Healthcare is honored to welcome David and Detra Offutt, Broker/Owners at Century 21 in Brockton, as the newest members of the Signature Healthcare Encore Society. The Encore Society recognizes those who have made Signature Healthcare a part of their estate plan.
As a new member of the Signature Healthcare Board of Trustees, David has been quick to express his gratitude for what Signature Healthcare Brockton Hospital has meant to his family. "Signature has provided exceptional care to my family over the years. The medical care has been matched by the highest level of compassion during some difficult times," he explained. "We are truly blessed to have Signature Healthcare in our community, and Detra and I want to do our part to help Signature continue their mission of caring for others long into the future."
Making your intentions known to us about a charitable gift from your estate allows Signature Healthcare to recognize you for your generosity while you are here with us. If you choose to be publically recognized your name will be included on the Encore Society plaque located at Signature Healthcare Brockton Hospital. We invite you to join David and Detra and the many others who are distinguished members of our Encore Society.
For more information contact the Foundation Office at 508-941-7078 or visit SHBHLegacy.org
Encore Society
The Signature Healthcare established the Encore Society so we can honor those who plan to include us in their estate plans while they are still with us.
Learn More