Impact our Future Through
Planned Giving
Touch the lives of others while creating a
lasting legacy
Find a piece of mind through a wide variety of
tax benefits
Help Signature Healthcare achieve its goals for
current and future generations
Encore Society Welcomes Employee Charter Members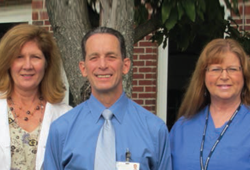 When it comes to commitment you won't find three people more dedicated to Signature Healthcare Brockton Hospital than Donna Gwynn, Sterile Processing Supervisor, Wayne Reynolds, Coordinator of Cardiac Rehab and Cathy Iverson, Executive Secretary/ Database Specialist, Signature Healthcare Foundation. Each has more than 28 years as an employee of Signature Healthcare Brockton Hospital. They understand the value of Signature Healthcare and the outstanding quality of care we deliver. "I truly enjoy working here," states Reynolds. "I have the opportunity to make a difference and impact lives of people who count on us for their well being." His sentiments are echoed by Gwynn who states, "I am proud to be here every day providing service to our community."

All three of these long-time employees chose to join the Encore Society by including Signature Healthcare in their estate plan through pledging a partial gift of the remainder of their retirement account. "This was an easy choice for me," states Iverson. "As an employee in the Signature Healthcare Foundation Office, I am aware of all the good things being done to improve patient care with the funds that we raise. I am proud of the commitment of Signature's staff to our patients and community and want to see Signature Healthcare continue its good work for years into the future."

Gwynn adds, "Brockton Hospital has taken care of many of my own family members and has given me the opportunity to contribute to the health of our community. In joining the Encore Society, I can keep giving to Brockton Hospital after I am gone."

All three employees cited similar reasons for their future gift:
It's easy. All that is required is the completion of a Change of Beneficiary Form (if married, must also be signed by your spouse in the presence of a notary public).
It's inexpensive. Unlike a will or trust, there are no costly attorney fees involved.
It's revocable. If at any time you change your mind, all you have to do is complete a new Change of Beneficiary Form and submit it to the plan administrator.
It's smart. If you name a family member (other than your surviving spouse) as a beneficiary of your retirement plan, first, your estate may pay tax on the asset and then your family members will pay tax at their ordinary income rate. Assets from a retirement plan left to a qualified charity, like Signature Healthcare, are not taxed.
It's a great way to help carry on our mission. Your gift will ensure the legacy of Signature Healthcare Brockton Hospital continues to make a difference in the lives of the patients we serve.
"If I can do this, anyone can," declared Reynolds. "All you need to do is fill out a change of beneficiary form and submit it to the Human Resource office or to the retirement plan administrator. You can also do it easily online, as I did."
Encore Society
The Signature Healthcare established the Encore Society so we can honor those who plan to include us in their estate plans while they are still with us.
Learn More